If your WiFi network suddenly disappeared from the WiFi network list, it could be because you accidentally hid the SSID, or because the device you are using can only see the 5GHz band and your SSID is set to 2.4GHz. If this was the only SSID you had active, and you had not enabled remote access you will not have a way to access the mobile app and fix it. If that's the case, you will need to perform a factory reset. If you do have remote access enabled, then you just need to make sure your mobile is connected to the internet, and launch the AmpliFi app to try these two procedures:
Unhide the SSID
1. Launch the AmpliFi app.
2. Select the icon of the AmpliFi router and tap Wireless under the Settings subsection.
3. If the "Hidden SSID" toggle is turned on, tap the toggle to turn it off. When the toggle is on the disabled position it will be gray.
| | |
| --- | --- |
| AmpliFi HD/Instant/Gamer's Edition | AmpliFi Alien |
| | |
4. Refresh the WiFi Networks list on your devices and see if your network now appears. It might take a minute. Note that the WiFi Network name will be the same as the Wireless SSID name you have set under AmpliFi's Settings > Wireless.
Enable the Additional SSID Feature
If the above method didn't work you can create an Additional SSID and make sure to select Both bands so it will provide connectivity for devices connecting to a 2.4GHz and 5Ghz bands.
Launch the AmpliFi app.
Select the AmpliFi router icon.
Go to the Wireless section, listed under the Settings header.
Enable "Additional SSID" by tapping the toggle to the On position (will be blue when enabled).
Name your SSID and choose the band desired. Note that the password will be the same as the main SSID, the top Wireless settings as shown in the above section (Wireless SSID Name).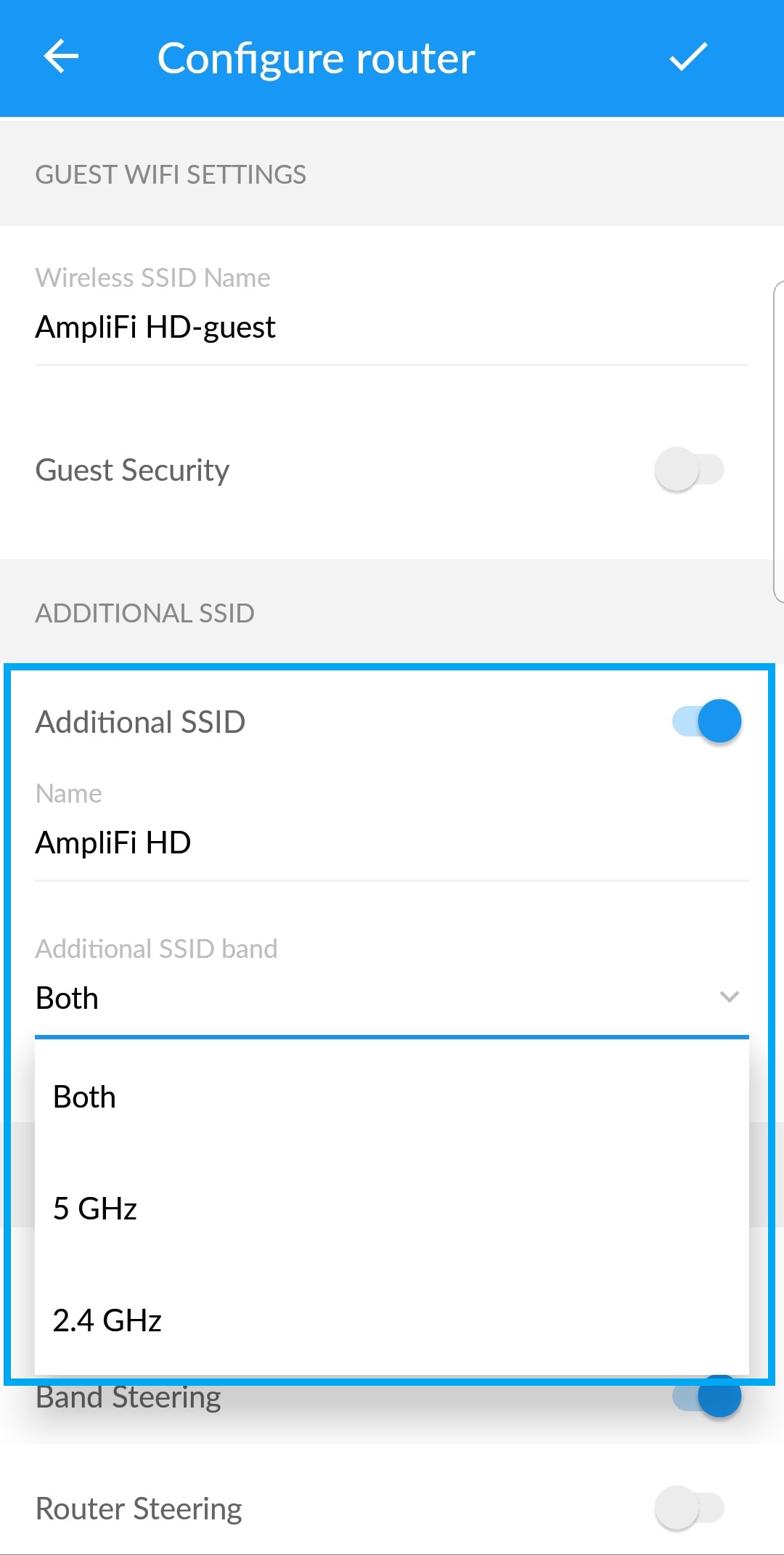 Factory Reset
If you are unable to discover the AmpliFi's WiFi Network after these steps, please perform a factory reset.