This article includes steps to troubleshoot a Plug-in cable error seen on the AmpliFi router screen. This may be encountered during an initial setup, after a recent change, or after moving or changing wiring. Make sure to have a few spare Ethernet cables on hand for testing before you begin. Note this guide is not for routers set up as ethernet backbone mesh points.
Follow each troubleshooting tip below, stopping to test for the error and for Internet connectivity after each one is completed, before proceeding to the next.
1. Verify that the WAN port Ethernet cable is securely plugged in. Push the fitting of the RJ45 cable firmly into the blue WAN port until there is an audible click. The WAN port should be connected to the internet service provider (ISP)'s modem, bringing in the I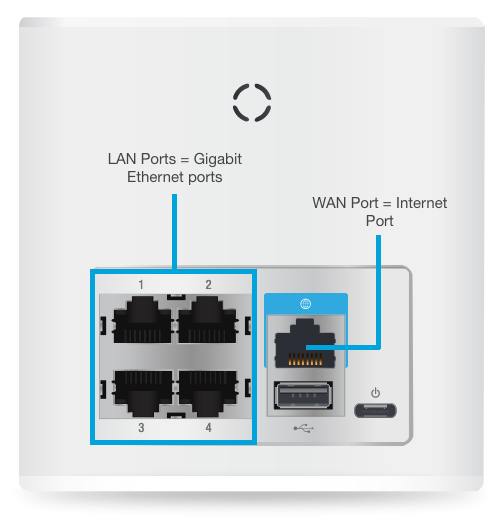 2. To test if a faulty cable is the cause, exchange the current Ethernet cables with new Ethernet cables that you know are functional.
3. To test if the cable is working and the issue is somewhere in the AmpliFi router, connect an Ethernet cable directly from the ISP modem to an Ethernet port on a laptop (or any other device with an Ethernet port that will allow you to easily test the Internet). Try accessing a webpage or other online content. If this proves to be working, then we know the cables and the modem are functional and there are no service outages. We will continue down the line, troubleshooting the rest of the elements in the network. Proceed with the AmpliFi router blue WAN port connected to the ISP modem.
4. Verify that the AmpliFi system has the latest firmware. Follow this article to learn how to check your current firmware and update.
5. Make sure that the router is connected directly to the ISP modem. If there is a switch between the modem and the AmpliFi router, bypass it and connect directly to the modem, to eliminate that the culprit is the other device in the network.
6. To test the blue WAN port for failure, plug an Ethernet cable between one of the LAN and the WAN port. the "Plug in cable" error should disappear and instead you should now see a "No IP Address / No Internet" error or similar. If you still see the "Plug in cable error" however, the WAN port may be damaged.
7. While leaving the router's WAN port plugged into the ISP modem, power off the ISP modem. Reboot the AmpliFi router by unplugging it from its power source, waiting a few seconds and plugging it in again. Once AmpliFi has completely rebooted (this process may take up to three minutes) boot up the connected modem.
8. If none of this worked, the next step is to reset the router back to factory defaults. Follow this article to do so.