Port forwarding allows a device to get through your firewall through a specific port. This allows a device outside your network to connect to a device inside your network. For example, by configuring port forwarding you can check on a camera that's connected at home while you are away. You will need to know what ports to open for your device, and that will depend completely on the client device (the camera in this example). Please contact the client device's support team or check their support documentation for this information.
Note If you have a server or remote desktop behind your AmpliFi network it is suggested you set up port forwarding to ensure their services are reachable from outside of the local network. Find out with their support documentation what ports need to be open.
To set up port forwarding, perform these steps:
1. Launch the AmpliFi app.
2. Tap the picture of the AmpliFi router.
| | | |
| --- | --- | --- |
| AmpliFi HD/Instant/Gamers edition | | AmpliFi Alien |
3.Tap Port Forwarding.
4. Tap + to create a new port forwarding rule.
5. Enter a descriptive name for the rule along with the information requested:
Enter the IP address of the client device which will be allowed access through this port forwarding rule.

Enter the appropriate port number in the

Source Port

field.

Enter the appropriate port number in the

Destination Port

field.

Select the appropriate protocol. This is typically TCP (Transmission Control Protocol); however, some services may require UDP (User Datagram Protocol) or both. You can check the client device's support documentation.

You can also define a range of ports when creating a port forwarding rule, instead of individual ports. In the source and destination port fields, format your port ranges as follows *****-*****, ranges can be set from 1023-65535. In this example ranges are set from 7700-7800.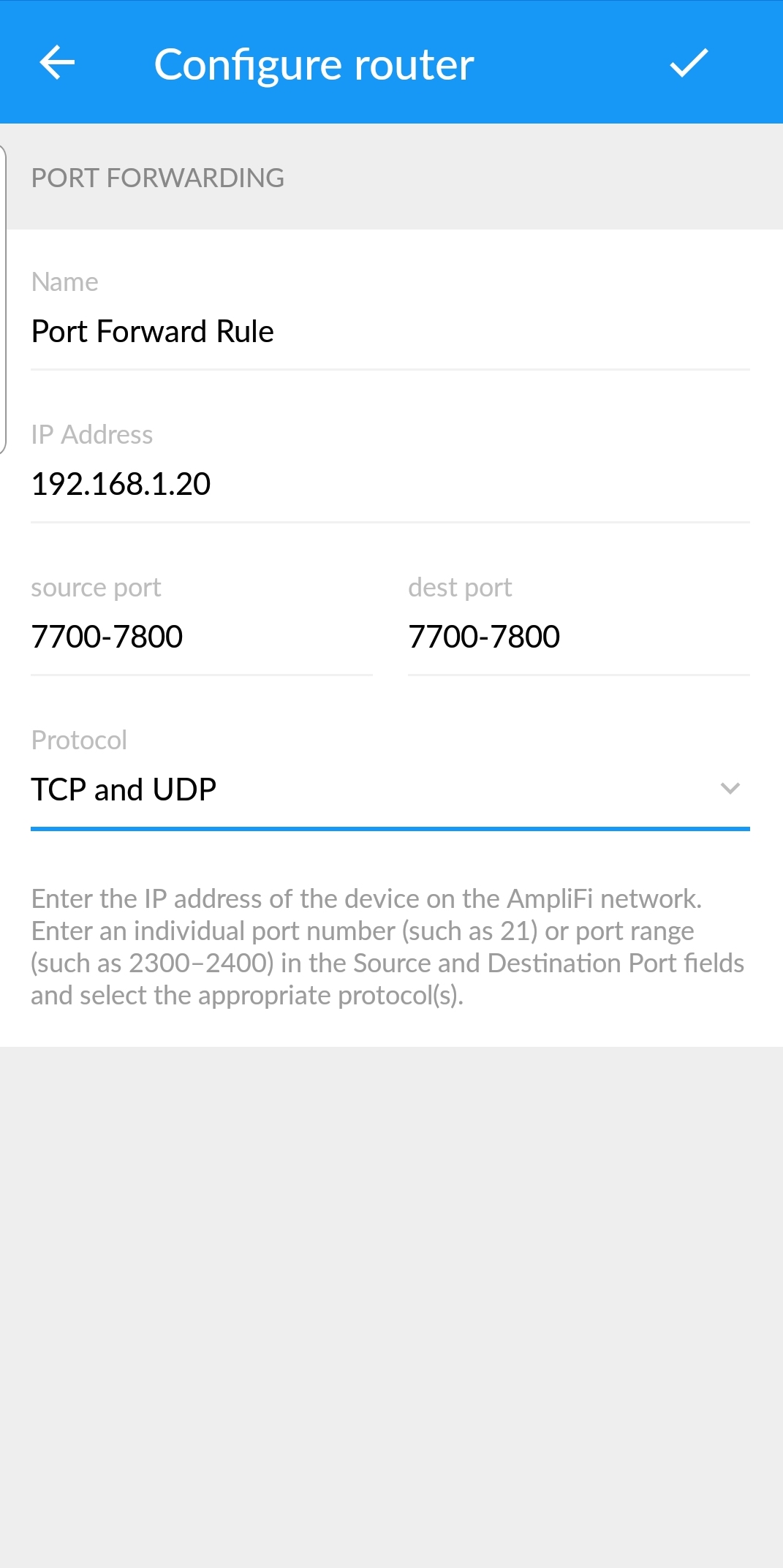 Tip You can usually find the port number and protocol for your service in your client device's documentation or during an online search. Be sure that there is a static lease assigned to your device before port forwarding. See how to create a static lease in this article.
6. Tap the check mark on the upper, right hand corner to save these settings. You will need to create a new, separate rule for each port you wish to open (some devices need more than one port to be open).